Help Improve This Site
Do you have a correction, suggestion, comment, addition, subtraction?
This page last updated 6/29/16.
You Are Here: Home
Welcome to ORIC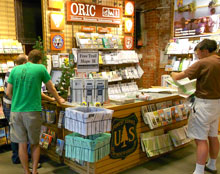 How to Use This Site
The rest of the sections in the menu in the left column ought to be self-explanatory.
Here is a window into what's on our Facebook page:
ORIC wants to be your most important resource for help planning your next outdoor adventure. We provide thorough information for Colorado as well as some information for surrounding states. And we do it two ways: through this website and in person at an information desk in the map department of the REI store in downtown Denver.
We are a not-for-profit partnership of eight federal, state and private organizations. Our staff is one full-time manager, supplied by the US Forest Service, and a crew of volunteers. For more information, see our printable brochure.
Visit us at REI: 1416 Platte St. Store location map.
Recent Updates to This Site
It's officially winter and the Eagle region (Vail, Glenwood Springs, Flat Tops) now has a winter trails page with 59 listings. That region's day hiking trails page has increased from 130 listings to 297. And the backpacking trips page has jumped from 5 to 133. Total trail listings on this website now: 4,326. 12/29/15.
The Aspen region pages are now bigger and better. We have a new winter trails page with 62 trail listings. The day hiking trails page has 44 more listings for a total of 131. The backpacking trips page, which had only 3 listings, now has 78. Total trail listings on this website now: 3,972. 9/22/15.